Al Khabara Every Girlz Dream
Hello from Nero (Al Khabara Eyez On Me) who got 7 years old at 27.06.2019 in last week.
Aren' t he is beautiful!
Happy Birthday to all our E-litter darlings!

Greetings from Jamie ( Al Khabara Every Girlz Dream) came with this beautiful headstudy of him. Jamie is 3 years old from our E-litter by  C.I.B Al Khabara Fiery Mouztafa x C.I.B Kingsleah Amazing Grace
Jamie is owned and loved by Kathe and Stephen in NC, United States
See more photos:
Zuzu  (Al Khabara Gifted Gambler) and Jamie (Al Khabara Every Girlz Dream), both took their classes  and Zuzu went Reserve Winners at
07.12.2013 All Breed Show, Forsyth Kennel Club, USA,
judged by Mr Roger.R. Hartinger/United States
Well done  team Zuzu and Jamie !
Jamie,  Al Khabara Every Girlz Dream , took Reserve Winners at All Breed Show, Cary Kennel Club in USA.  Jamie is owner handled by Kathe Vaughan.
We wish all the very best to James and Kathe!
Jamie and Zuzu were showing at Carolina Kennel Club All Breed Shows at 17 -18.08.2013 and did well, Jamie by taking his class both days and  Zuzu placed in Open Class.
Jamie and Zuzu are owned by Stephen Vaughan & Kathe Vaughan and are owner-handled by Kathe Vaughan in USA.
Showresults page updated.
One little tired birdhunter taking nap in his favorite chair, isn't that just too cute?
Jamie do not mind he is growing every day but chair still stay same size, isn't that too cue, too ?
New photo of Jamie (Al Khabara Every Girlz Dream) 5 month old looking to start his show career  in USA at 2013.
Good luck little Jamie  and Kathe !
Jamie (Al Khabara Every Girlz Dream)  from our E-litter did longest trip over to Washington to meet his family at end of October.
16 h flight by Lufthansa went very smoothly ( except in my side of course when I was just simply holding back tears ) – but we have only very good words to Lufthansa for their direct flight, they take good care of dogs.
When Jamie got out  from travelling crate at airport he started dance around happily and it was love from first sight  for every part.  After cleaning his paws, they took 7 h driving to North Carolina, to the new home of Jamie.
Well, and now the funny part to start- Jamie went in, found a big couch in second, climbed on it like a lion and started look… Continue reading →
Here is little dream boy Buppa, 15 week old, showing his movement at one of his very first show trainings. Choose HD quality to see video at its best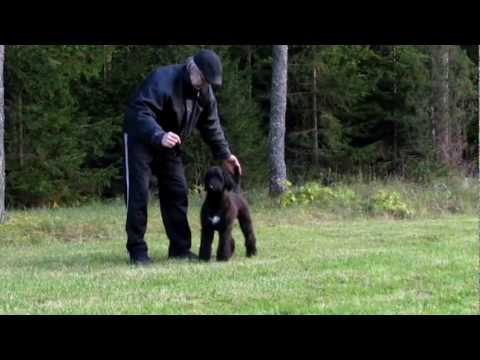 Al Khabara Every Girlz Dream 15 week old
These are photos should been uploaded recently but  taking time now to present our  extravagaza -team-babies:)  Aren't they are cute?;)   We have two beautiful girls – one of  black masked red brindles and another one solid black,  looking to have their loving show-homes, contact us !
Buppa  (which is his temporary babyhood call name he choose himself )  14 week old, taking first "showring" steps with Alex here at Al Khabara to be ready for bigger rings as soon possible by his age.