DAILY LOVE
Chicken thieves banished out from kitchen !!! :D
Happy Birthday our darling Helmi !
Helmi is CH Aziz Mahtab
EUR VW-07, EVMM-08, EST, SLO Vet CH, INT, BALT, FIN, IT, EST, LV, LT, UA CH, LVW-99-00-01 LVJW-99 LVCLW-99-00-01 PL CLW-00 LTW-01 LTJW-99 HunW-01, LV Club CH, LV JCH,
The latest title for her at 10 year old: EST VETERAN MASTER OF COURSING -2008
Multiple BEST IN SHOW AND GROUP WINNER
Helmi doing great, still has sparkle in eye, good appetite and walking. She still is first one to take singing up in pack when Daddy's car arriving . Picture was taken 2013 but we are looking to take new pictures soon.
Happy Birthday our darling Helmi !
HAPPY BIRTHDAY to our G-LITTER – 3 years old today!!
Happy Birthday to Bengu, Lilli, Morris, Maasu, Maki, Gero in Estonia, Mustikka in Finland, Rosie in Sweden and Zuzu in USA !!!
All the best from your Mom Gracie and greetings to Daddy Moritz in Finland !!!
After getting 2 years old  the 8 adult titles finished and this year 4 from G-litter are on waiting year  for their last CACIB  – looking to finish their  International Championship.
Way to go G-kids and Happy Birthday!
Happy 15 year Birthday   to our darling Favorita
C.I.B INT BALT FIN EST LV LT UKR CH
BALT EST LV LT JCH SBOS
EST VET CH, EST VET W-09
BALTW-01, ESTW-02, LVW-01,02, LTW-00,01, HUNW-01
LVJW-99, BALT JW-99, LV CLW- 00, PL CLW-00
Favorita had Birthday last week, at 30.08.2013 she got 15 year old and here is lot pictures we made today and also I got Favo on picture when they came from short walk with her Son Mouztafa ( C.I.B CH Al Khabara Fiery Mouztafa) and her  1 yo Granddaughter Entel ( EST JW-13, TAL JW-13 Al Khabara Easy Breezy Me )
How is Favorita doing?  She still going proud dignified and strong. She lives with all our dogs in same room and all have great respect for her. She walking well, but sometimes after longer times on legs her rear get tired, she then rest and goes again.
She makes loud call when she want to go outdoor to bring an apple back for her. Favo eating raw meat at mornings  (yes she still has all her teeth!) and she asking different goodies at evenings. We give her everything she loves like bread,  cottage cheese or cooked meat with rice.
Our darling Gracie – CIB INT CH Kingsleah Amazing Grace
Pictured yesterday, she is 8 and half and going proud and strong.
Mom of our our two large litters of 9 and 9 at 2011 and 2012, proud Mama of 5 Champions, more to come as oldest litter is only 2 years old…
Love you, Gracie!
Maasu (CH Al Khabara Grace Of Love) at her favorite place looking the live Birdhunter's TV program :)
Handsome Emerald (Al Khabara Emerald) 1 years old from our E-litter !
We were showing in southern Estonia last weekend and this was close where Emerald lives, we got the best surprise ever when Emerald came to meet us and his sisters and Mom Gracie to this show!
Words can not describe the joy we had to see darling Emerald, so handsome so dear!
The pleasure was both side as you can see from photos below here, when he moved with Alex the joy and pleasure were fully both side!
We can not thank enough Maive for taking sucha  good care of Emerald and his coat, nicely groomed and well taken care we are so happy for Emerald seeing how much he loves his owner Maive and family. Here is lot lovely pictures made by us and by Aivo Jaggo:
New photos of Tentel – Al Khabara Extravaganza from our young E-litter, was made last weekend.
Tentel started her show career well by showing two times in junior classes with excellent results, she placed Best Bitch 4 out of junior at this last weekend at All Breed Show in Estonia.
Tentel is owned and handled by Jane Jaggo and very much loved by whole family.  She lives in first time Afghan Hound family  but  has two lovely whippet buddies.
We couldn't be more happy with Tentel and her wonderful family !
Please look  more new photos at Tentel's page
One of the warm sunny evenings in June and our Grand Old Darling Helmi captured enjoying sunbathing.
Helmi is 15,6 years old, still going strong, eating well, eyes bright and seeing well,  her most favourite days are the sunny ones then she likes to be in garden.  When it is raining, she chooses not to go out and we of course doing all like our Queen want.
At mornings after breakfast, they play so hard with her 9 years old daughter DiDi that we all can hear the noisy jumping in whole house :)  We then trying to calm them down a bit but we feel so lucky to have that great oldies in family.
Helmi is INT BALT IT FIN EST LV CH EST VCH EURVW-07 Aziz Mahtab
New photos of our Soffi, Al Khabara Escada – 1 year old
See the pictures:
Still sorting photos for lot updates and couldn't resist to publish these two pics of Lil'Lilli 2 month and 2 years old side by side  Look at that lil' supermodel :)
LILLI 
CH Al Khabara Graceful Me 
by SBIS CIB Agha Djari's Urban Cowboy x SBOS CIB Kingsleah Amazing Grace from our G-litter.
When she was baby, she was first one from litter who jumped high onto my bed first thing at mornings to look at me with THESE eyes to say: Do you know I am yours !!!
Then my heart was stolen and I said to her: "Lilli, you are so graceful!" :)
Click and see Lilli the punk rock girl !!!
Entel (Al Khabara Easy Breezy Me)  and Soffi  (Al Khabara Escada) had a modelling session showing the latest snood fashion :)
See Entel and see Soffi the sisters from our E-litter presenting their beautiful heads, both 1 year old.
Few snoods available as we did them few more than we need, check it out and contact me if interested.
See the headstudies of Entel and Soffi: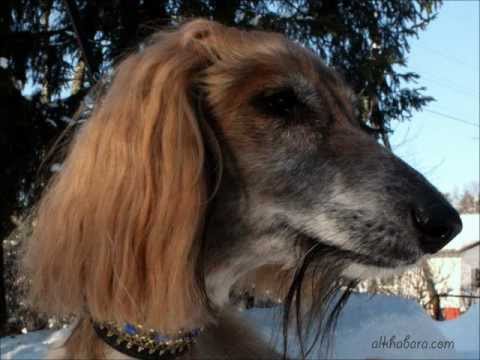 Mouzi – 10 year old – Mouzi is CH Karakush Its U Nanimous ( CH Karakush The Heat Is On x CH Karakush Unforgettable U ) Finally got the short videoclip, filmed at Mouzi's 10 year birthday at 24.February, uploaded.
It was very cold day, sunny but freezin' cold.  -10C or even more, so we got only this short video but we made lot photos, read about Mouzi and see lot photos in our previous posting !
One of these rare times when I had mobile phone in hand so I captured the moment I see every day, part of our daily life here at Al Khabara.
Our kitchen watchers today – Mouztafa and Lilli – aren't they cute?!
Below is pictured the view to my daily walking route, it is about 2,5 km long and all like that or even more beautiful!
Very nice to live here, very little traffic and dogs enjoy the walks.
We had such a luck this year as
Continue reading →